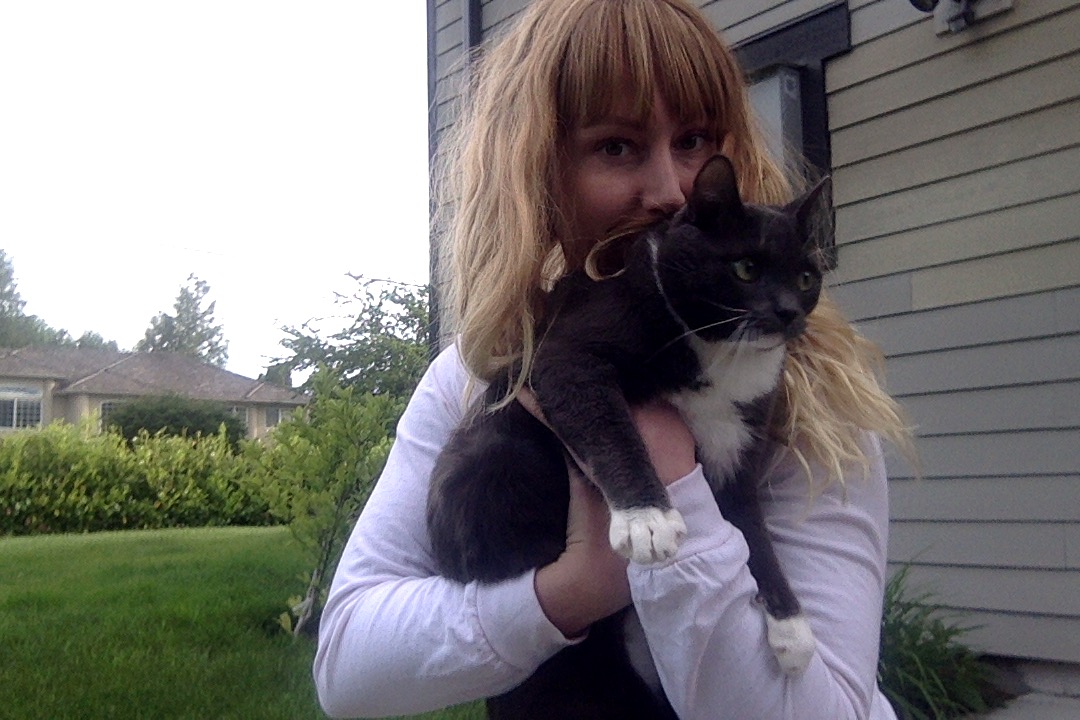 BY GUEST AUTHOR & CAMPER VAN SNOWMAD, ELIZABETH
PICTURED WITH HER HANDSOME CAMPER VAN KITTY, PURRNIE, WHO WAS NOT HAVIN' IT FOR THE PHOTO SHOOT. READ ON TO READ ABOUT HER EXPERIENCE WORKING WITH ANOTHER CAMPER VAN CONVERSION COMPANY AND HOW AARON SAVED THE DAY.
Craigslist is a pretty sketchy place, I think we can all agree on that. But I was seeking out a camper van around $7-8k and being in the small town of Durango, had to extend my search to Denver, CO. One van stood out to me – a Dodge Ram wagon that had a simple and clean build-out. I reached out on Craigslist to the owner and offered them their asking price, but told them that to not waste their time with me yet because I wouldn't have the money for another 30 days.
The owner let me know that he'd get back to me either way. And I didn't hear back from him for about a week, but he let me know that it sold. That's nicer than most people on sketchy Craigslist, so I asked him if he had any other vans or had his own build out business.
He let me know that he was thinking about starting a business that builds simple and affordable camper van conversions. Of course, I'm talking about none other than Aaron. Aaron told me to follow his camper van conversion projects on Instagram, so I hit the FOLLOW button and watched his journey over a couple of months.
So back to my life, I love snowboarding and decided to drive my 2008 Honda Ridgeline into Canada with my camper van cat, Purrnie. We successfully made it across the border and my jaw dropped when I saw the Sea to Sky highway. I successfully checked into my Airbnb and settled in for a few days.
But then on a random whim, I decided to drive back down into Washington state and buy a newer cargo van. So I drove down to Bellingham, WA and traded in my truck and some cash for a 2015 GMC Savana. Sweet deal, right? That Ridgeline was on its last leg anyway, after battling a deer on the highway and towing a travel trailer for two years.
Driving the van back into Canada (and getting stopped by border patrol once again because they found a single white female driving an empty white cargo van with a cat to be extremely sketchy…can you blame them?) And I decided that I loved BC so much, I wanted to build out the van enough to live in it after my AirBNB rental was up.
And so there I was, jigsawing and measuring stuff inside of my van in the Home Depot parking lot. If you've ever attempted a build with no carpentry background or tried to build a van with no workshop, it's a total pain in the ass. But I was able to get up some insulation and very poorly cut walls (I used the box of the Jigsaw as a table, LOL).
Because I left my drill back at my home in Durango, CO, I was in Home Depot one day searching for an affordable drill and some bits when I ran into a person I met from the Whistler skate park. He was with another friend and I told him that I was struggling to build out a camper van in the parking lot. Somehow, the stars aligned and his friend, let's call him Jerry, passed me a business card for a camper van conversion company. I felt so lucky and ran back to my van, drove it home and called the number on the card. A guy, let's call him Chad, answered the phone and agreed to come to meet me at my Airbnb to assess the state of the van. True to his word, he showed up with his girlfriend about 30 minutes later, obviously put off by the work I had done so far (but was still super friendly). He told me he would be willing to work on my van and to bring it to the shop a few days later.
This part of the story is boring, so I'll give you a shorter version. I installed solar, a vent and roof rack (which look so badass) and got a lot of that stuff done on my own. So then I took it into their shop, they happily agreed to have a simple conversion complete within my timeline of finishing in July in-between their other van projects (it was early May) and agreed to my budget of $6,000. I basically gave them free rein to build it how they thought was best and trusted them fully. They told me that they'd give me a day or shorter notice to bring it in each time because they would work on it between their Promaster and other projects, which was fine with me because I work remotely and have my own schedule.
I took the van in for a total of four days over a period of two months. Each day I'd bring it in, there would only be one single person in the shop working on the van. This made me a little concerned because I was hoping to have at least 2-3 people working on it. And each day I'd bring it in, they promised to have XY and Z finished, but when I'd come to get it at the end of the day, only X and part of Y would be complete. They got up the floor with vinyl cover, plywood walls, a plywood ceiling (with a wobbly vent), a cabinet that I pre-purchased at IKEA, a platform bed, a water pump, and sink, and hooked up the vent and lighting they installed to the battery.
But the back doors still had pink insulation sticking out. The wall to ceiling was left the exposed metal, which had a bunch of unsightly wires, and the lights were hanging off and not mounted to anything.
They promised me on the last day that I saw them that they would bring it in for one final day, one big push, with all hands on deck, to really finish it out so that it looked more complete for a lower price than the rest of the build. They verbally agreed to add wheel covers, vinyl on the walls, an extra shelf and connecting the walls to ceiling. They had already gone over my budget and the van looked largely unfinished and unpresentable, so I agreed that I would take it in one more day, live in it until they were able to get me in for a day, and also told them that I'd like to pay them for additional work.
Well, I felt essentially ghosted after that. They ignored me for two weeks and when I finally got them on the phone to address an issue I was having with charging my laptop (I have a huge 200W solar panel on the roof), I asked them about bringing it in and all the things they agreed to, and they seemed baffled, as if it was the first time I mentioned it, and said they wouldn't be able to get even half of the things they agreed to do get done.
I felt really hurt, disappointed and betrayed by their work. Throughout the whole process, I trusted them and gave them free rein over how to go about the build, but in the end, I was left with a large unfinished van and a maxed-out budget.
I reached out to Aaron a few times to vent and complain about the issue and I knew he was empathetic. I told him that if I could get more cash (after being drained by the initial build), that I would take it to his shop in Golden, CO.
A little time went by and I was feeling the monetary strain of putting all of my funds into this build and the stress of having a very unfinished vamper van (with pencil marks and exposed metal to add to the un-homeliness of it). I went back down to Colorado to focus on my business, designing websites and thought I'd finish out the build myself.
Until Aaron reached back out to me. Aaron and I had been brainstorming business names, domain names, and marketing/website ideas for the past few months. I was always responsive and courteous to his questions because I'm passionate about camper van conversions and I was extremely impressed with the work he was churning out and want him to be successful.
So Aaron and I came up with a trade. I'd come into his shop for three days with my van and he would get as much work done as he cold. In exchange, I'd build him an entire website with all the bells and whistles (yes, the one you're looking at now!) and do everything else I could to help his business start-up, including SEO and branding.
I think we were both a little nervous but trying to be trusting of each other. I definitely felt a little vulnerable. It wasn't anything he had done wrong – I was just still damaged from the company I worked within Canada! And I mean think about it, we had only chatted on Craigslist, then Instagram, and now I was driving 6 hours from Durango to Denver to meet up for a full 3 days. I wasn't sure where I was going to sleep, shower or work, but when we met up, our nerves were instantly calmed and I stopped thinking and worrying about the little details.
I won't write about the work I've done for him, because you're looking at or you're at this website because of it, but I will say that while he was building my van, he was extremely efficient with time, cleverly strategic and was able to fix all of the issues I had with the previous company. The trade worked really well for both of us and I think we both gave 110% effort. I'm so happy we finally met and are now friends – not only is he amazing at camper van conversions, but he's also just a great person and I'm happy to now call him my friend. I've invited him and his friend to come down to my little corner of Colorado and come snowboarding and hiking. My only regret, one that bothers me every day, is not going to Aaron first and jumping the gun on an "experienced" company in Canada. If you're reading this and thinking about building your own camper van with no experience of going to another company/person, I'd urge you to look at Aarons work or even talk to clients he has worked with. Everyone speaks so highly of him because is so modest, humble and wants to get people into affordable camper vans that are still professionally built.
A lot of companies out there give false expectations, screw over clients and go over budget. Ironically, a few of the other builds Aaron has done is exactly for that reason – getting screwed over by another camper van conversion company.
Luckily, he trusted me enough to do this trade and I am SO happy with the work he has done in my van. It's been quite an adventure working from the loft of his shop and socializing with him and his friends.
Aaron, thank you so much for not only trusting me to build your website and help you establish your online presence, but taking on a project that was half-assed by another company with zero complaints, jumping right in and tackling all the issues with it that you knew stressed me out and caused me grief and regret. This experience has been life changing for me and I'm so excited to take my beautiful camper van out for some snowboarding adventures!